25 Environmentally Friendly Home Gifts
Views: 37 Author: Site Editor Publish Time: 2021-06-27 Origin: Site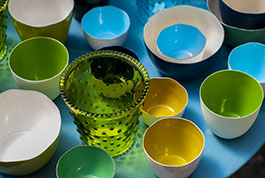 Green life has always been lifestyle of concern. Life needs attention to details and sustainable environmental protection items can be applied from the subtle. Here introduce some typical green environmental protection household small items, for example, eco friendly dinnerware, including bamboo children's dinnerware, bamboo fiber cutlery, eco friendly plates and bowls, etc.
1. Rattan basket
There are a lot of storage boxes for the fragmentary things at home. The common ones on the market are plastic storage boxes. However, plastics are easy to aging and discoloration, difficult to recycle and classify. Harmful gases will be produced by combustion and it can not be degraded naturally, which can be regarded as the number one enemy of environmental protection. Under the same budget, rattan baskets are good-looking and environmentally friendly. They can be applied to hold newspapers, towels and other articles, and even as dirty clothes baskets.
2. Canvas

B

ag
The style of canvas bag is versatile and refreshing, There are all kinds of styles of logo, pattern, sentence or everything. People can even draw a unique canvas bag. In addition, the ban on plastic has been implemented for many years. If people go to the supermarket, bring a good-looking and strong bag with them, which is environmentally friendly and economical.
3. Environmental

P

rotection

S

traw
Plastic straw is small, but it is an indispensable thing in life. Although the volume is small, if the amount is large, it is also a serious environmental threat. So there are reusable green straws, such as bamboo straws. If it is used at home, it is recommended to prepare some, just like chopsticks. Wash it after use and reuse it next time, which can also save a purchase cost. In addition, there are degradable straws, which are more green than traditional plastic straws.
4. Handmade

G

ifts
Some candles, food and personalized items can be made by DIY. DIY ideas can also help people upgrade what they already have in their home and create something unique and thoughtful.
5. Biodegradable

M

obile

P

hone

Shell
Now almost everyone has one or several mobile phones, so the mobile phone shell should be matched naturally. Biodegradable shells can be applied, which also comes in a variety of styles, colors and phone models.
6. Audio

B

ooks
Audiobooks are hardly wasteful. And they can be listened on the road or anywhere, without finding a quiet corner to read.
7. Environmental

P

rotection and

E

cological

T

ableware
Try to use environmentally friendly tableware, such as bamboo fiber tableware and recyclable tableware. Eco tableware can be thrown into the composting tank after use. It is an ideal choice for friends who love food and environmental protection.
8. Diary
Prepare some new notebooks, which are made of recycled paper. The design is diverse, exquisite and sustainable, and each page has a smooth writing experience.
9. Bamboo

T

oothbrush
A biodegradable toothbrush is a perfect environmental protection gift because everyone needs a toothbrush. Different from the traditional toothbrush, bamboo toothbrush can help people to live a healthy and natural lifestyle, and protect the environment at the same time. Traditional toothbrushes are made of different types of plastic, which cannot be recycled and will take at least 400 years to decompose.
10. Organic

S

unscreen
Environmentally friendly sunscreens contain no environmentally harmful ingredients because their formulation is safe.
In fact, the most important environmental protection factor is not to waste and squander as much as possible in daily life. Even if people are rich, they should lay emphasis on details and establish a sense of responsibility to protect the Earth home. Only in this way can we really live a sustainable life.
Ningbo Green Time is committed to the field of kitchenware, which provides environment friendly products for 9 years, including totally bamboo cutting board, eco friendly plates and bowls, eco friendly weeding tableware, etc.