Christmas Decorations | How to decorate your Christmas table
Views: 2 Author: Site Editor Publish Time: 2021-11-06 Origin: Site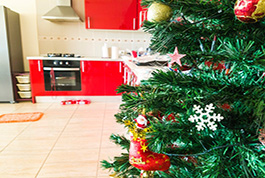 Christmas is coming! Since the end of November, "jingle bells, jingle bells" Christmas music has been ringing in our ears, urging us to meet the arrival of Christmas.
Christmas means that we will have family dinners again and again, and a well prepared table often leaves a deeper impression. Whether you're holding a big event this holiday season or just adding festive cheer to the table, there are countless ways to decorate your Christmas table. If you are an environmentalist, how do you dress up your dining table? After reading this article, let's get inspired with some sustainable table setting ideas!
Create your Christmas palette
Before you start dressing up your Christmas table, you need to determine the color of your Christmas based on the Christmas theme of your family. Of course, in general, red is the most common main tone.
The classic Christmas table in the picture continues the traditional Christmas elements, this lovely Holly inspired look is both nostalgic and beautiful. It's also a good choice for Christmas palette.
Bamboo fiber tableware -- Your main character at the table
How to make the environmental theme reflected in the dining table design? Using environmentally friendly tableware is obviously a good choice. Greentime's bamboo fiber cutlery uses compostable bamboo fiber materials, which are not only high temperature, reusable, but also recyclable.
One for the Kids' Table
The adults in your family may fight over who gets to sit at the kids' table this year when they see how adorable your place settings are. This cute kids' table idea from 100 Layer Cake-let uses compostable bamboo dinnerware and reindeer DIY cups (a little construction paper, and you're good to go) to set a woodsy scene.
Cute, diverse design is the key to catch children's eyes, Greentime's children's tableware with a variety of patterns can attract children's attention.
Sustainable Christmas centrepieces
No Christmas table is complete without a centrepiece. As environmentalists, it's a good idea to cut back on unnecessary purchases and use what we already have as the centrepieces.
My first advice would be to look outdoors for some natural materials. Twigs, pinecones, acorns, berries, dried flowers are perfect starting points for a centrepiece. Either laid informally on the table or layered with festive ornaments and string lights, the result will be festive and totally eco-friendly!