Do You Prefer Indoor Dining Or Outdoor Dining?
Views: 86 Author: Site Editor Publish Time: 2021-07-21 Origin: Site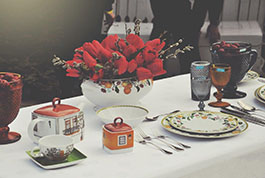 Do you prefer to participate in indoor gatherings or outdoor dining? For catering operators, indoor dining and outdoor dining are two completely different concepts. This is why we have listed the differences between these two dining styles and provided some dining tips, so no matter where your customers are doing the event, we can prepare you for it. Let us look at the characteristics of the indoor dinner and outdoor dinner.
Features of indoor dinner
There is no doubt that the main environment for dining is indoors. If you have the right equipment, you can even prepare and cook food directly in front of your customers! The delicious food paired with exquisite dinner set and dinnerware makes it very comfortable. You can also add more fresh food to the menu and PLA disposable tableware, because you don't have to worry about food that will spoil when you travel to the customer's location. In addition, it is much easier to make last-minute menu changes, especially when you are cooking in-house or in your own premises.
In indoor dining, coordination is key. Food preparation, polylactic acid plastic plate set and different shape mugs, kitchen staff and cleaning work must be consistent. Ideally, all the factors that make up a catering service must work in such a way that your customers hardly notice that your employees are there. Detailed planning and communication with staff will ensure that you successfully host a catering event.
Features of outdoor dining
If you find that you are not dining in your own indoor venue, you need to determine whether you can use a kitchen that meets all your needs. If the kitchen does not meet your standards, you will need to adjust accordingly. For example, the kitchen may be too small and the service staff may not have enough space. In this case, you can instruct the service staff to be in the kitchen only when picking up or putting down the cake stand and kids dinnerware. This prevents the kitchen from being crowded and reduces the chance of accidents.
Catering outside of the dining venue also means that you must travel from the business to the customer's location. If the distance is too long, the temperature of your food may be inappropriate. This is why you should find out how long it takes to reach your destination to help you make a timely schedule, determine the type of food to be served and how to prepare it. It will also help you choose the type of equipment you need, such as disposable bamboo utensils and food tray brackets to keep food warm during transportation and service.
Compared with indoor dining, outdoor dining is more difficult and more factors need to be considered, but the on-site atmosphere and the feeling of customers are stronger. If you need a colorful pizza board, natural eco-friendly coffee cups or reusable knife and Fork cutlery and other tableware supplies, please contact us in time.