Essentials For Music Festival: How to spend an unforgettable music festival
Views: 0 Author: Site Editor Publish Time: 2021-10-09 Origin: Site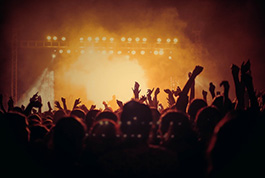 Whether it's the interactive art installations at Bonnaroo or the immersive stages at Ultra Music Festival(A electronic music festival is held every March in Miami, Florida), music festivals are all about the experience. Year after year, festivals keep elevating the way they present music, arts, and culture to their guests.
People all over the world has been attracted by the massive lineup to come to the scene, and get involved in the lively music festival together. At the same time, in addition to the most important music phenomenon, the music festival is also a large-scale dining scene. Many music festivals have left a unique impression on people because of their unique food. Creating a luxurious gourmet experience for guests is an important part of maintaining an exclusive feeling in the VIP area or backstage Party of the music festival.
Bonnaro Festival
Time: June 9-12
Bonnaroo means "a good time", the word comes from the Cajuan people of French descent who moved to Louisiana. Bonallo Music Festival was founded in 2002 and is held every year in hot summer. The underlying theme of eco-chic runs across the entire event and it's important that food and beverage booths reflect the stylish sustainability of the festival.
Creating a completely eco-friendly tablescape is a sure way to impress flower-crowned guests at VIP food gardens or backstage parties.
THE CATERING ESSENTIALS FOR BONNARO
l Eco-friendly bamboo fiber tableware
l Sustainable cake baking tray
l Sugarcane disposable plates
l Eco friendly coffee cup
As people become more and more aware of environmental protection, whether in daily life or in activities, people want to keep their environmental protection habits as much as possible. Therefore, for the festival organizers, the use of environmentally friendly tableware can bring a lot of positive points for their image.
Creative tips
Switch to compostable tableware. Plates and cutlery crafted from organic materials like palm leaf or wood have naturally unique patterns that add a distinctive touch to your plating and are perfect for a coveted Bonnaro Instagram picture.
Get creative. Enhance cocktails by choosing colorful biodegradable straws that complement your drinks.
Ditch foam-based options. For handheld festival foods make the switch to compostable food boats, which are a stylish choice for plating grab and go entrees, as guests can take their meals with them as they go from stage to stage.
Design the whole music festival brand. The music festival is also a brand. Therefore, whether from the overall layout of the venue or the appearance design of the food, we need to reveal the overall brand tonality of the festival. Therefore, we can start from the tableware and design the design with the logo of the music festival, so that people can have a deeper and better impression on the music festival.
Pose for a picture. Foodie culture is always popular amongst guests at music festivals and including your logo on food presentations is a great way to boost brand visibility as guests post pictures of their mouthwatering, absolutely Instagrammable meals.
As a professional biodegradable food package supplier, Green Time is committed to produce environmentally friendly tableware with strict production standards and excellent technology.