Global Trend of Light Food Consumption
Views: 1 Author: Site Editor Publish Time: 2021-12-04 Origin: Site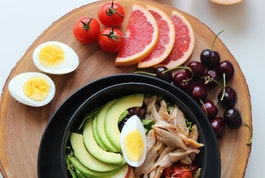 Light food is not a kind of food, but a healthy way of eating. According to the big data report on light food consumption, in 2018, the number of global light food orders exceeded 50 million, an increase of 157.9% compared with 2017.
With the improvement of people's living standards, more and more people begin to pay attention to diet health. If we often eat meat in our life and only eat little vegetables or fruits, it will lead to some physical diseases, such as hypertension, hyperlipidemia, etc. As a result, more and more people begin to eat more vegetables, fruits and other low-calorie, low-fat foods three meals a day. And many restaurants have also launched a variety of light food to attract more customers.
The development of takeout industry has also promoted the development of light food industry. According to the survey, the search volume of light food, fat reducing food, weight loss food, health food and other words on the takeout platform is increasing. This shows that the popularity of light food in the public catering consumption does not decrease. The development of light food industry also promotes the development of environment friendly takeout packages. At present, more and more businesses began to use disposable bamboo fiber forks, disposable PLA coffee cups and disposable sugarcane plates to replace the traditional plastic tableware. This shows that people not only care about their own health, but also attach importance to the protection of the environment.
At present, the first tier cities are still the main market of light food consumption. Market supply and demand data show that light food, as a healthy diet lifestyle, has become popular and forms a stable consumer market. At the same time, the popularity of takeout has also brought light food into more people's lives.
From the perspective of consumer groups, the main group of light food consumption is still young people. In addition, more than 70% of consumers are women. This is because young people pay more attention to their body shape and diet. Because of this, many young people will also use non-toxic and healthy tableware, such as bamboo fiber drinking cups, bamboo fiber party plates and other bamboo fiber cutting boards.
At the same time, the survey found that young people prefer to eat light food in summer. Taking the data of 2018 as an example, light food orders grew fastest in the second quarter, up 228.9% from a year earlier. This is mainly because many young people choose to lose weight in summer. In addition, light food has become the first choice for many young people in summer due to its refreshing taste.
With the continuous improvement of people's living standards, more and more people begin to pay attention to diet health. Healthy diet requires not only healthy food, but also healthy tableware. Greentime is a professional environmental tableware manufacturer. Our products include reusable bamboo fiber children's bowls, biodegradable bamboo fiber tableware, colorful PLA tableware and eco-friendly sugarcane tableware. These tableware have stable chemical properties, will not cause harm to human body, is the first choice of healthy diet.