How To Create An Environmentally Friendly Coffee Culture?
Views: 56 Author: Site Editor Publish Time: 2021-08-10 Origin: Site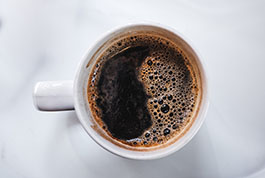 The coffee boom seems to never end. Just like the plastic problem, the cups, lids, and blenders in a disposable coffee culture can all cause plastic problems. How do we create a good environmental coffee culture? How do we make good use of Eco friendly tableware, biodegradable tableware and bamboo disposable cutlery? I hope the following solutions can help you.
How to create an environmentally friendly coffee culture
1. Stay in instead of take out
The most sustainable way to drink coffee is still to spend time instead of taking it away. Staying and relaxing are not only good for the environment, but also good for your peace of mind. After all, until the pace of modern life accelerates, multi-ethnic culture can keep up with its development. Enjoy your coffee time in the coffee shop with reusable bamboo coffee and exquisite ceramic coffee cups.
2. Insulation cup or thermos
Although we think that walking slowly is usually a more sustainable way of life, it is of course more convenient to take away. Therefore, we recommend having a steel thermos or bamboo fiber coffee can. Since it is your exclusive bamboo fiber coffee pot, it is more hygienic. Usually, only your mouth touches it!
The flask is multifunctional and can be used for different types of beverages. A well-made thermos can heat beverages for up to 12 hours or cool beverages for up to 24 hours. Flasks made only of steel can be more easily recycled at the end of their useful life. Note the flask with a lid, which is made of materials such as steel, plastic or bamboo. The more elements contained in a component, the harder it is to recycle it.
3. Recyclable non-insulated vacuum flask
You can also use a coffee cup made of a single material, such as glass, ceramic or recyclable plastic, or a combination of materials that are easy to separate and recycle. It combines tempered glass containers with recyclable polypropylene lids and biodegradable cork tape to prevent heat and slippage. Compared with thermos cups or thermos bottles, the price is cheap. The size and shape of the cup is more suitable for smaller coffee, and it is easier to clean than a flask.
4. Deposit Cup Plan
If you don't have reusable cups or flasks, the deposit cup plan is a great way to drink coffee. The basic idea is to ask the customer to pay a small deposit (usually around 1 Euro) to borrow the plastic cup with the coffee of choice. The cup can be returned to any participating partner in the program.
The mobile application makes it easy for consumers to find and discover participating partners. Retailers save the cost of disposable cups, and scalability further reduces costs. The cup can be used for other products, such as cereals, salads or smoothies, and can withstand at least 500 uses before being recycled.
5. Mixed bamboo cup/plastic cup
The mixed material cup is made by mixing the materials in the technology circle and the biosphere, which can produce more sustainable products on the surface. Biodegradable environmentally friendly cups are made by mixing naturally biodegradable materials (such as bamboo) with inherently recyclable plastics (such as polypropylene), and finally a biodegradable and recyclable composite material will be obtained. This is a very sustainable solution!
We have newly launched children's bamboo products, including bamboo childrens dishes, bamboo childrens plates, etc. Welcome to visit our official website to purchase.