How To Plan A Wedding Reception?
Views: 76 Author: Site Editor Publish Time: 2021-08-14 Origin: Site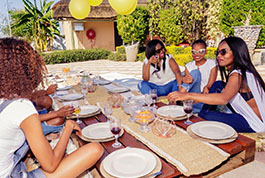 Whether you are planning a wedding for yourself or a client, you want to know all the details about how to organize a spectacular wedding reception. A wedding usually consists of two parts: the ceremony and the reception. Although the ceremony may be the most special part of the celebration, the reception is a gathering and what guests look forward to most. How should we plan a perfect wedding reception?
Will I hire a wedding planner?
Wedding planners can use their expertise to provide you with powerful help and relieve the pressure of wedding planning. On the other hand, if you plan your wedding and reception yourself, make sure you have enough time for all the research you need before you start making any major decisions. For example, if you plan to make all the foods yourself, take the time to learn and perfect each recipe. You also need to arrange distinctive bamboo fiber tableware, eco-friendly tableware and biodegradable tableware in advance.
What type of venue should I look for
Your wedding reception venue should be able to comfortably accommodate the number of people you plan to invite. A great way to save money is to hold ceremonies and receptions at the same location and hold weddings during the typical off-season (January to April and November). In addition, if you plan an outdoor wedding, tents are essential. No matter how sunny and sunny the weather forecast is, you should always prepare a tent large enough to accommodate all guests and vendors.
Wedding food preparation
If the budget is tight, the buffet may be the best way to save money. If you don't have time to organize your own wedding, traditional catering will be a good and always reliable choice. No matter what you decide to do on an important day, there are some things to consider when deciding what type of food.
If you decide to hire a caterer, make sure to taste samples of their dishes. By trying out the chef's meals, you can include the best meals your caterers can provide and leave a deep impression on your guests. You should ask your guests if they have allergies or dietary restrictions. In this way, you can provide vegan meals or allergen-free food for guests of any health condition.
The new trend in wedding receptions is to include unique food stations, such as ice cream bars or bacon bars. They are a great way for guests to taste snacks throughout the reception. For environmental protection and convenience, you can use biodegradable bamboo tray, printed cake stand or organic cutting board. After the meal, provide guests with a disposable lunch box and a disposable bento box, so that guests can take leftovers home and eliminate food waste.
Do you have any good ideas for wedding planning? Welcome to share with us the details of your perfect wedding. If you have any demand for bamboo disposable cutlery, bamboo fiber kitchenware or bamboo laundry basket, please contact us in time.