How to Increase Social Distancing in Your Restaurants?
Views: 52 Author: Site Editor Publish Time: 2021-03-07 Origin: Site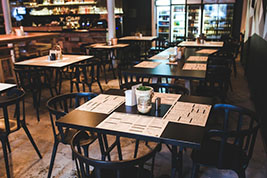 Although restaurants around the world have begun to reopen, we still need to take some measures to prevent infection. These measures can protect everyone in the restaurant. Among these measures, an effective measure is to keep a certain social distancing.
What Is Social Distancing?
Social distancing is the distance between people. Increasing social distancing can effectively reduce people's risk of being infected by virus. Generally speaking, the distance between people should be more than 6 feet. Therefore, before customers enter your restaurant, you need to take some measures to keep the distance between customers more than 6 feet.
The Benefits of Keeping Social Distancing
In order to provide the most comfortable dining experience for guests, you need to keep your guests more than 6 feet away. This can create a safe and comfortable dining environment for guests. In addition, it can reduce the chance of the virus spreading from person to person.
Ways To Enforce Social Distancing
If you're struggling to find ways to enforce social distancing at your restaurant, then you can read the following. These methods allow guests to consciously maintain a certain distance from others.
Use Floor Decals
Placing floor decals throughout the restaurant is the best way to enforce the social distancing. In this way, you can always remind guests to keep them away from others when they are in line. Therefore, the distance between each floor decal should be greater than 6 feet. You can print words on the floor decals so guests can know where they should stick. You can use the following words: "6 feel apart", "keep your distance", "please wait here", "practice social distancing", "remember to protect yourself and others".
Rearrange Tables
As a restaurant operator, you can adjust the position of the table so that the distance between the tables is greater than 10 feet. If your dining room is not large enough, you need to remove some tables from the dining area.
Other Ways of Protecting People in Restaurants
Although keeping enough social distance can effectively reduce people's risk of infection, because the restaurant is a relatively sealed environment, you need to take other measures to protect the safety of people in the restaurant.
Guests will come into contact with reusable bamboo dinner plates, cups, trays and other tableware during the meal. If the virus remains on these bamboo fiber dinnerware, it will pose a threat to the health of guests and restaurant staff. Therefore, when the guests have finished eating, you need to disinfect their used biodegradable reusable tableware. Only in this way can we ensure that there is no virus on the eco-friendly dinnerware sets.
In addition, you need to remind guests to wash their hands before eating. Therefore, you need to provide disinfectant hand sanitizer in your restaurant. In addition, the restaurant staff should wash their hands before cleaning and washing the organic bamboo fiber tableware. After the restaurant closes, it is necessary to disinfect the whole restaurant, especially the square bamboo food waste bins in the restaurant.
If you're looking for reusable, environmentally friendly tableware, visit greentime's website. Our company mainly produces all kinds of biodegradable bamboo tableware, such as bamboo thermal cup, kids bamboo plate set and so on. These tableware are of good quality and are loved by many customers.