Ideas of Simple Home Storage
Views: 87 Author: Site Editor Publish Time: 2021-06-11 Origin: Site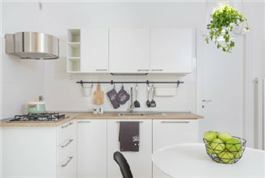 With the increasing of people's living standard, there are too many goods which need to be bought, such as clothes, shoes, bags, and various small articles and so on. And shopping on line is also the part of people's normal life. When people clean the room, they will meet the problem of storage. Too many things in the home, how to store them and keep the room clean?
As everyone knows that storage does not mean to stuff all your things into the closet. That is to say, you close the door with a sound of bang, and hope that no one would see the chaos inside. In fact, storage can be divided into two items. In addition to safe and systematic storage of items by some storage tools, such as small wood shelves or metal wall shelves etc. The storage function occupies a very important part of the overall design of the home, and even it is one of the basic elements. If you want the storage to be both practical and beautiful, you should read this article carefully. Here is a collection of some cases for you, so that you can achieve a beautiful decoration and storage design without any effort. You can choose your favorite design inspiration to incorporate into your next home design or integrate these suggestions into your design, and you will surely get a perfect design that is both functional and beautiful. Now let us to see together these super simple and inspirational storage ideas, and hope that these ways can be helpful for you. Of course, we also hope you will get more inspiration here.
1. The dual task of the kitchen counter wall
Kitchen is a place for people to cook delicious foods every day. The kitchen hardware is incorporated into the design as one of the storage functions on the counter wall. The wood wall shelves or metal shelf with hooks is a good helper to store some kitchen appliances.
2. Upgrade built-in storage
Along the interior architectural lines, the built-in storage is also unique. The built in cabinet has enough space to store some pots.
3. The hangers on the wall
Abandoning the traditional form of clothes hangers, the clothes hangers on the wall bring a little fashion atmosphere to the space, and wall mounted shelves can be put small articles.
4. Make the corner more creative
Giving new life to the corner, such as creating a reading space, then put a small book shelf in the corner, now you may read book quietly comfortably.
5. Comfortable cloakroom
Create a comfortable cloakroom using some small wood shelves for ties or scarves, so that you may choose the clothes or accessories you need to wear and start a busy day smoothly.
6. Use an open shelf
Replace the upper storage shelf in the room with a stylish and modern open shelf.
7. Chair and stool with storage function
There are some chairs or stools with storage function, which are not only soft and comfortable, but also have practical functions. It is great to use them to store articles.