Paperless Kitchen | Green Time Tell you how to do!
Views: 2 Author: Site Editor Publish Time: 2021-11-02 Origin: Site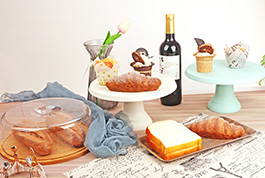 Paperless Kitchen is making it easier for people to entertain while keeping their environmental impact to a minimum with a new line of palm leaf dinnerware called Green Time tableware!
Paper and plastic plates are a serious environmental concern. Plates constructed out of paper contribute to deforestation and require gallons of water for manufacturing. Plastic is often produced from fossil fuels and does not break down quickly in landfills, so plates made from the material contribute to non-biodegradable waste problems.
Many people today are looking to live greener lives, but find it difficult to fully eliminate disposable paper and plastic plates. For couples planning a wedding or companies and families planning events, disposable dinnerware does offer convenience. With disposable plates and bowls, there is no need to collect dirty dishes or wash them after use; however, a growing number of individuals and businesses are looking for greener ways to simplify serving at events in order to reduce their environmental impact. Green Time tableware is the solution for these consumers. Check out our infographic showing the manufacturing for these compostable disposable plates.
Green Time tableware is designed for eco-conscious consumers, couples and companies that want to enjoy the convenience of disposable plates but enjoy the elegance of sustainable rustic chic dinnerware. Sustainability no longer has to come at the cost of elegance.
Green Time tableware plates are biodegradable and compostable and unlike other plates on the market, the dinnerware is strong and heat resistant. Their durable design even allows the compostable disposable plates to be placed in the microwave for reheating food or cooking. Green Time tableware palm tree dinnerware is already available for purchase in four sizes at Paperless Kitchen.
INTRODUCING PAPERLESS KITCHEN'S NEW LINE OF BEAUTIFUL AND COMPOSTABLE DISPOSABLE DINNERWARE: Green Time tableware!
We're excited to introduce a new way to help you save time when you're entertaining. We all know what a pain it is to wash dishes after a big get-together, but when you're striving to have a paperless kitchen, that can seem like the only option. After all, you don't want to resort to using paper plates or wasteful plastic.
Today, we are announcing that we've manufactured a new line of fantastic, beautiful and most importantly, eco-friendly disposable dinnerware called Green Time tableware! Green Time tableware gives you a green alternative to disposable paper plates and plastic plates. The dinnerware is made out of palm leav es that are collected once they have fallen off the tree. The leaves are dried in the sun and sterilized and then formed into the shape of dinnerware. No chemicals or dyes are added. As a result, the disposable plates are USDA certified as bio-based and are completely compostable.