Sugarcane Bagasse Food Container -- Eco-Friendly Packing Ways To Take Out
Views: 1 Author: Site Editor Publish Time: 2021-10-05 Origin: Site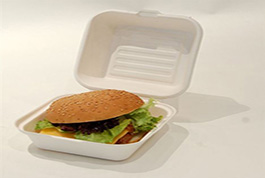 As topics of sustainability and eco-friendly life become more relevant, your restaurant should be looking into the benefits of switching to more sustainable and nature-friendly practices in your day-to-day operations. This is not only a social responsibility activity, but also to enhance the image of the restaurant in the eyes of consumers. Your customers will value seeing the care your business takes in protecting the environment.
Typically, most take out containers and other food packaging are usually made with styrofoam or non-recyclable plastics. Over time, the waste caused by non-recyclable plastic will have damaging consequences on the environment. However, it is the perfect sustainable alternative to preparing take out orders by choosing food packaging made from eco-friendly materials. If your restaurant is looking to make more eco-friendly choices in your take out packaging, this article will give your some advice.
Sugarcane tableware( also called Bagasse food container)
Bagasse is a material made from repurposed sugarcane pulp. Take out containers made from bagasse are commercially compostable and biodegradable, making them a great plant-based packaging material. Sugarcane Bagasse Food Container is a popular tableware nowadays. So how are sugarcane tableware made?
Production Of Sugarcane Bagasse Food Container
When we get the raw material, sugarcane bagasse, we will make inspection of the material to check if the material is reach our standard. This is a crucial step to ensure the quality of our products
Sugarcane pulp is a kind of pulp. It uses sugar cane bagasse as raw material and is formulated into a certain concentration of pulp through hydraulic pulping and high temperature disinfection.
This step is to make the raw pulp into a shape of a semi-wet pulp tableware blank.
This process uses hot die pressure forming, calendering, eliminating the net marks left by the paper web forming, making the inner and outer surfaces smooth, and can be pressed with some text and patterns according to different customer and use requirements. At the same time, the burr on the edge of the cutlery is cut off, and the indentation that facilitates the folding and opening of the lid is pressed.
According to the appearance and the company's testing standard, we check whether the product is qualified and divided into first-class products and waste products.
Each sugarcane bagasse food container need be tested by metal detector to make sure they reach the product and food safe level.
Disinfection makes customers be guaranteed in safe. We are not only want to sell product, more want to make safe product let our environment and food be better.
Biodegradable food package is well done, then we deliver them to the warehouse, and then ship to every custom who love green tableware.
As a professional biodegradable food package supplier, Green Time is committed to produce environmentally friendly tableware with strict production standards and excellent technology.