What Is Bamboo Fiber Tableware?
Views: 65 Author: Site Editor Publish Time: 2020-12-17 Origin: Site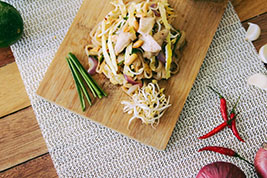 Bamboo is one of the fastest growing plants found in countries with humid and tropical climates. This autotrophic plant does not need fertilizer and is called a sustainable crop. Therefore, bamboo is widely applied in the construction industry and is a very popular product when furniture and tableware is made.
1. What

I

s

B

amboo

T

ableware?
As the name implies, bamboo fiber dinnerware is made of bamboo. Some of these ingredients are mixed with other ingredients, such as wheat, rice husk or corn starch, to form different types of tableware. These products are usually natural or contain no natural ingredients. Therefore, they are compostable and biodegradable. They are reusable, ideal for hot and cold food and essential for every green family.
Bamboo products have developed a sustainable lifestyle. It encourages people to reduce the utilization of plastics, which contributes to the healthy development of the earth. Eco tableware can also help young people adapt to and popularize the concept of zero plastic sustainable life.
2. Kitchen

U

tensils

T

hat

C

an

B

e

M

ade of

B

amboo
Because of its sustainability and durability, bamboo is now part of the culinary culture. It does not break when it falls off accidentally. In addition, the material can handle all types of food and can withstand high temperatures. Here are some bamboo kitchen utensils.
(1) Chopping

B

oard
Bamboo cutting board is definitely the first choice for environmentalists because it is sustainable, durable and biodegradable. Another possible reason is that bamboo wood cutting board does not need any chemical substances in the production process and absorbs little water. Sometimes, there is water sticking between the pores of the wood cutting board. Best bamboo cutting boards are good because they can naturally resist water absorption and thus reduce the chance of bacterial formation.
(2) Bamboo

T

ea

S

yringe
Bamboo tea syringes are usually made of 100% bamboo silk and the teapot made of bamboo must be large enough to make the leaves fully expand, so as to bring the best tea flavor. Tea lovers can enjoy the benefits of freshly brewed tea in an environmentally friendly way.
(3) Bamboo

R

olling

P

in
Bamboo rolling pin is an ideal tool for making pastry, bread and pizza dough. Bamboo rolling pins are waterproof like the chopping board. Traditional rolling pins made of wood may grow bacteria in the pores of wood due to water absorption.
(4) Bamboo

C

hopsticks
Organic chopsticks from bamboo are usually polished to give them a natural and smooth texture. Because bamboo chopsticks are very light and can be carried around, they can be cleaned and reused repeatedly.
3. Advantages of

B

amboo

T

ableware
Bamboo fiber diner set helps people to cultivate environmental awareness. In addition, it can be utilized for many years because of its powerful function. This kind of tableware usually comes in different sizes and designs and can be selected at will.
Bamboo has no heat conduction function, so it is absolutely an advantage to replace metal tableware with bamboo fiber tableware. For example, when a metal spoon is accidentally placed in a boiling soup pot for a few minutes, it is difficult to pick it up by hand, while bamboo tableware will not be affected.
There are many kinds of bamboo tableware. In the whole production process, no non environmental protection products are added. This eco friendly plates and cutlery has brought many benefits to people and the environment, so it is worth trying more.
Ningbo Green Time is committed to the field of kitchenware which provides environment friendly products for 9 years, including bamboo disposable crockery, biodegradable paper coffee cups, etc.