What Is a Bamboo Fiber Cup?
Views: 66 Author: Site Editor Publish Time: 2021-02-15 Origin: Site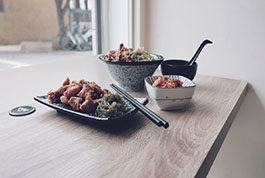 Once upon a time, people used ceramics, wood and plastic to make cups. Because plastics can't degrade in the natural environment, it will pollute the environment. People begin to look for new materials to replace plastics. Nowadays, reusable bamboo fiber cups appear in the market and are loved by people. Bamboo fiber is not only a kind of renewable resource, but also can be degraded naturally, which will not pollute the environment.
People who have planted bamboo know that bamboo grows very fast. And bamboo can grow rapidly without pesticides, fertilizers or herbicides. Therefore, the annual output of bamboo in the world is very high. And some enterprises have begun to use bamboo to make various kinds of biodegradable bamboo fiber tableware, such as biodegradable bamboo fiber plate, biodegradable bamboo fiber bowl and so on, in order to replace the traditional plastic tableware.
The material of biodegradable coffee cups is organic bamboo fiber certified by FSC of German environmental protection agency. Inspired by the classic minimalist design, the designer focused on the life scene of modern urbanites and applied the simple design to the eco-friendly bamboo fiber cup. And these simple designs can set off the elegant and fashionable urban atmosphere.
Our eco-friendly disposable tea cups is equipped with smooth silicone insulation sheath. When you hold the eco-friendly travel mug full of hot coffee, you don't have to worry about being scalded. This silicone insulation sheath is removable, so if you think it's too heavy, you can remove it. The capacity of the cup is 500ml, which is suitable for most life scenes, whether traveling, working or driving.
Our colorful bamboo fiber cups do not contain harmful substances such as BPA, PVC, lead, cadmium and mercury. In the production process, we control the quality of products very strictly. At present, people all over the world consume more than 1.6 billion cups of coffee a day. If we all use disposable plastic cups to hold these coffee, it will cause serious environmental pollution to our earth.
If you use compostable bamboo fiber coffee cups, you can say goodbye to disposable plastic cups. Disposable plastic cups not only pollute the environment, but also damage human health, because most disposable plastic cups will release some toxic substances under high temperature. Bamboo fiber is a kind of natural material, which has no harm to human body. If you're an environmentalist and like a simple and quality life, use a bamboo fiber cup for coffee.
It should be noted that the applicable temperature of bamboo fiber tableware is -20℃ to 100℃. So it can be put into dishwasher, sterilizer, or steam sterilized. However, do not put it into the oven and microwave, which will damage the tableware.
Greentime is a manufacturer of all kinds of tableware. We mainly manufacture all kinds of environmental protection tableware and bamboo storage items, such as bamboo fiber tableware set, degradable tableware, etc. Our products have passed strict quality testing, can protect the environment without harming human health. If you are interested in our products, please visit our website for more product information.