What Will Happen To Weddings Under The Covid-19?
Views: 79 Author: Site Editor Publish Time: 2021-08-18 Origin: Site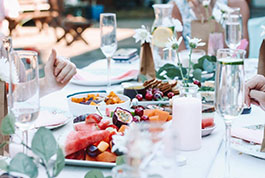 The beginning of the new year always brings new ideas and changes past trends. As the wedding season approaches, it is important to reflect on the past trends of last year, but also to come up with unique options when discussing ideas with potential clients. Whether through themes, decorations or dining, couples always want to make their wedding special. The following are the wedding trends in the catering industry in 2020, these trends will surely impress your customers and guests.
1. The choice of wedding food
It turns out that this dietary trend will continue: grazing the table. The grazing table loved by customers, guests and diners is a high-end buffet spread, which can cleverly arrange food in piles. There are grazing tables at cocktail parties, baby showers, lunch parties and almost every other special occasion, making them the perfect complement to any wedding reception.
The grazing table allows guests to deal with each other when they are full of plates and reduces the time required for hungry wedding guests to dine. In addition, these richly decorated tables add an unforgettable atmosphere to a wedding that your customers will love. The seafood-themed grazing table quickly became popular with the traditional ham and cheese platter, so you can design a grazing table full of oysters, shrimp, lobster and other raw bar items.
2. Decoration of wedding table
Although the grazing table is designed for finger food, please make sure to set aside a series of silverware and service tools in your pavement for guests to enjoy themselves. In order to make your food and flower art more three-dimensional, please spread wooden standpipes on the grazing table and cover them with food to achieve the purpose of proportion and size.
As more and more people in the world realize their health and sustainable practices, plant-based foods have become part of many people's daily lives. As a caterer, you may have several customers asking you to make plant-based or vegan dishes for events. Or the choice of bamboo fiber tableware, Eco-friendly tableware, and biodegradable tableware makes your wedding look more natural.
3. Sustainable and environmentally friendly tableware
To complement your eco-friendly menu, provide your customers with the option of including natural tableware into their tableware options. Sustainable tableware made from various woods and leaves often have unique tones and natural patterns that cannot be replicated, providing the unique look that most brides and grooms seek.
Mini plates made of bamboo or sugar cane, bamboo cake stand, recyclable kids dinnerware, reusable coffee cups, etc. are all representative of sustainable tableware. Although some guests may wish to stick to traditional silverware, those who prefer soil and plant-based choices will like the idea of using unique and nature-friendly tableware on special days.
Trends come and go, but weddings create memories that last for many years. The most important step to ensure that customers are absolutely satisfied with your catering service on special days is to find the style of catering they want. We will continue to provide you with high-quality wedding and party tableware, welcome to visit our official website to find more bamboo fiber kitchenware and bamboo wood tableware.